Great For School Scheduling
Schedule almost anything with the Calendar and Resource Scheduler.
Multi user calendar (The number of users is based on your plan)
Your public events are viewable by any site visitor, the number of users is based on editors and admins.
Import your school's departments, and user listing from a spreadsheet.
Contact us for details to import your users.
Create event categories in your calendar
Filter the events by category
Make events public or private (private events accessible only to logged in users)
Email event reminders (sent when the event is scheduled, and/or on specified date)
Schedule Computer Labs
Reserve Library Time
Checkout Laptops, Projectors, Cameras, etc.

Schools use our non profit pricing plans:
| | | | | |
| --- | --- | --- | --- | --- |
| Name | # Users | Cost / User | Monthly Fee | MB Space |
| Non Profit 1 | 1 | $1.99 | $1.99 | 5 MB |
| Non Profit 2 | 2 | $3.00 | $5.99 | 5 MB |
| Non Profit 10 | 10 | $1.00 | $9.99 | 10 MB |
| Non Profit 20 | 20 | $0.75 | $14.99 | 20 MB |
| Non Profit 50 | 50 | $0.40 | $19.99 | 50 MB |
Accounts are required for users that will be adding and editing events or scheduling resources on the calendar.
All prices in USD. Add additional users to the Non Profit 50 plan for only $.39 per user per month
The schedule grid shows the resource's schedule for the current day. Resources are easily scheduled by clicking on the grid.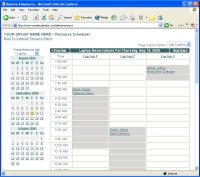 This hosted calendar solution makes it easy for any organization large or small, to have a web calendar and resource scheduler in minutes.
Need a Dedicated Solution for your organization?

View the Calendar Features Video
(Format, Flash - opens in pop-up window disable popup blocker)

OurOnlineCalendar.com makes it easy for your school to share information online anytime from any internet connection.

School Account Related Questions.

Can we prepay for the calendar?
Yearly school accounts receive 2 months free service, invoice is for 10 months.
School accounts paid quarterly receive a 10% discount per quarter.


Do we need a account for every teacher at our school?
No, but it makes it more effective for scheduling and email reminders. A account for each member of your staff makes it easy to see who is using what resource when and where.


We have more then 50 teachers at our school, how does pricing work?
For accounts with more then 50 users, use the 50 user plan + only $.39 per user per month.
So a 75 user plan would cost 19.99 + (25 * .39) = $29.74 per month.


Do you accept Purchase Orders?
Yes, we accept purchase orders, purchase requests and more. Contact us for more information.
Sign up for your free trial account and we can work out the payment method later.